Andrew Waggoner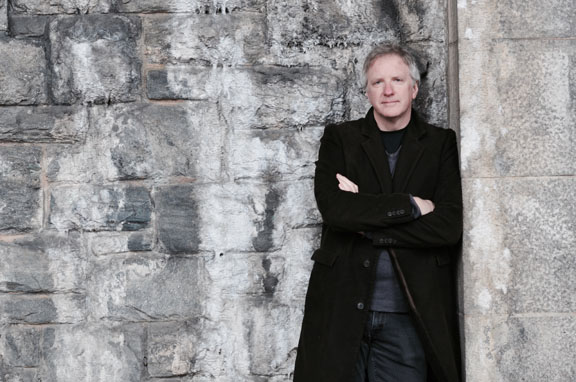 Andrew Waggoner was born in 1960 in New Orleans. He grew up there and in Minneapolis and Atlanta, and studied at the New Orleans Center for Creative Arts, the Eastman School of Music and Cornell University. Called "the gifted practitioner of a complex but dramatic and vividly colored style" by the New Yorker, his music has been commissioned and performed by the the Academy of St. Martin's-in-the-Fields, the Los Angeles Philharmonic, the Saint Louis, Denver, Syracuse, and Winnipeg Symphonies, the Cassatt, Corigliano, Miro, and Villiers Quartets, the Pittsburgh New Music Ensemble, the California EAR Unit, pianist Gloria Cheng, violist Melia Watras, 'cellist Robert Burkhart, the Bohuslav Martinu Philharmonic of Zlin, Czech Republic, Sequitur, the Empyrean Ensemble, Buglisi-Foreman Dance, Ensemble X, CELLO, Flexible Music, Ensemble Nordlys, of Denmark, and Ensemble Accroche Note, of France.
He has received grants and prizes from ASCAP, Yaddo, The New York State Council on the Arts, Meet the Composer, New Music Delaware, the Eastman School of Music and Syracuse University. He has also been awarded the Lee Ettelson Composer's Award from Composers Inc., in San Francisco, a Guggenheim Fellowship, and the Roger Sessions Prize for an American composer by the Liguria Study Center in Bogliasco, Italy, where he was in residence at Bogliasco in the spring of 2008. In 2009 he received an Academy Award from the American Academy of Arts and Letters.
He has two CD's on CRI, both now available on the New World label, and can also be heard on the Vienna Modern Masters Music From Six Continents series, as well as on solo CD's by violist Melia Watras and 'cellist Robert Burkhart. His recent solo CD for Albany Records, Terror and Memory, was released in 2011 to broad critical acclaim. In addition to his concert works, Waggoner has also composed extensively for theatre and for film, and is an active violinist. He was a founding Director of the Seal Bay Festival of American Chamber Music in Vinalhaven, Maine, and is currently Chair of composition in the Setnor School of Music of Syracuse University. With his wife, the 'cellist Caroline Stinson, he has recently formed Open End, giving concerts over the past several seasons in New York, Syracuse, Strasbourg, Florence, and Copenhagen. He is also, with Ms. Stinson, co-artistic director of the Weekend of Chamber Music, based in New York City and in Jeffersonville, New York. Waggoner's music is available through Subito Music.
Works: