Christopher Fulkerson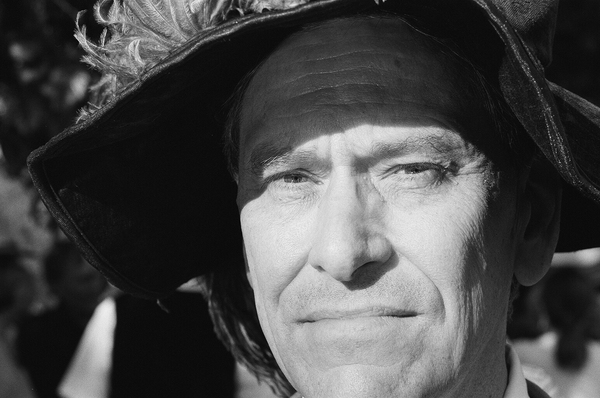 Composer and conductor Christopher Fulkerson was born in Sacramento in 1954, and received his Bachelor of Music degree at the University of the Pacific and his M.A. And Ph.D. at the University of California at Berkeley, and continued studies in Literature and Intelligence at Stanford University. He has written over sixty works of dramatic, symphonic, chamber, choral, and solo music. Since 1984 he has completed many titles of a large work-in-progress, a week-long music event titled simply the Festival, a cycle of cycles corresponding simultaneously to the journey through life; through the Twentieth Century and beyond; and to a journey through Hell and purgation to Enlightenment. His compositions include AT THE MOUNTAINS OF MADNESS for large orchestra; MOYS ICOS for orchestra; the "THRESHER" String Quartet; a Concerto for Harpsichord; SCRITTI DI LEONARDO, the only setting of the words in Italian of Leonardo da Vinci; A MIRACLE OF RARE DEVICE, a dramatic recital in three acts; THE RUSH OF THEIR VERSE for eleven instruments; THE CHILDERMASS for septet; SAINT PEREGRINE'S CONCERTO for bass clarinet and percussion; THE CAVERNS OF THE SACRED RIVER for string orchestra with percussion; CELESTIAL SIXTIES, a Symphony of Men's Voices; CLOTHES ANOTHER'S HAND for string trio; DOUBLE BLIZZARD for violin and bass, MERE MAGIC MUSIC and MEGA MAGIC MUSIC, Paganini Variations for women's octet; THE ANGEL for solo harp, KUBLA KHAN for tenor and ensemble; and the oratorio YOUR SOVEREIGN MIND. His most recent major work is THE CATHEDRALS OF POLYPHEMUS, an Organ Symphony.

Two double CD sets of his composing and conducting, entitled MODERNISM FOREVER Volumes I and II, are available, as well as a DVD, SEVEN WORKS AND A DOCUMENTARY. His complete recording of the Walter Winslow Nineteen Madrigals is available on EBay. He is currently at work on his Second String Quartet and a third set of Paganini variations for women's voices, MAXIMUM MAGIC MUSIC. His largest work in progress is the opera THE NUERNBERG TRIAL.

In recent years Dr. Fulkerson has undertaken, in addition to composition, research in a number of areas. He has written music and art criticism published as program and recording notes and in the international journal WOMEN'S STUDIES and other publications. He tries also to spend time at various writing projects, including a prose tale, THE SONG OF THE NORTHERNERS, based upon Teutonic myths centering on the Nibelungenlied, not limited to Wagner's Ring cycle; a translation and introduction to the ANABASIS by Saint-John Perse; and his most quixotic project of all, a big book entitled ALL THE SECRETS IN THE WORLD, about language; code talking and its mathematics from Shakespeare through Hegel to Doc Smith; reading through plaintext for decipherment in Homer, Josephus, Joyce and his paraphrase of Gray's Anatomy; the Constitution as a type 777 document; Truth Content in Music; Xenakis and Saint-John Perse; and Debussy's use of Quadratic mathematics. Dr. Fulkerson despairs of completing all this, and admits he needs to learn to crowd source, but he perseveres.

Fulkerson has taught privately and at the University of the Pacific in Stockton, California; at the University of California Extension; and at San Jose State University. He has conducted the San Francisco Lyric Opera, in full productions of Wagner's SIEGFRIED, Beethoven's FIDELIO, and other works; earlier he founded the Berkeley Opera Chorus. He founded Ariel, a prototype of the contemporary vocal ensemble. While leading Ariel he commissioned new works and gave many world premiere performances of adventurous avant-garde repertoire and recorded with Opus One Records of New York. He founded the Composers Chamber Players and the Musicianship Program of the San Francisco Girls Chorus, for which he wrote the three-volume text VOCAL MUSICIANSHIP. He wrote and taught a music appreciation course for the University of California Extension. His composition teachers include Andrew Imbrie and Edwin Dugger, and he took a few lessons with Elliott Carter. He studied conducting with Michael Senturia at U.C. Berkeley and with Harold Farberman at the Conductor's Institute. He has received various modest commissions, awards and grants, including the "First" of the University of California, in its only state-wide competition in musical composition, for his CONCERTO FOR HARPSICHORD AND SEVEN INSTRUMENTS. Christopher Fulkerson lives in the Santa Cruz Mountains in California.
Works: