Alan MacMillan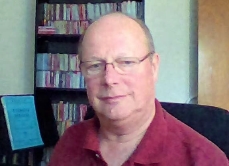 Alan MacMillan was born in Nyack, New York in 1947 where he began musical studies in piano at the age of eight and violin at nine. After a full-length solo violin recital at the age of sixteen, he won a scholarship to complete his high school studies at Interlochen Arts Academy in Michigan where he began to compose in earnest.
He received his undergraduate training at Boston University where he studied composition with Gardner Read and David Del Tredici, violin with Roman Totenberg and organ, for a semester, with George Faxon. Upon graduation he received first prize in composition and began teaching for the Boston University music theory department, becoming Assistant Professor of Music in 1976.
In 1977 he received his Ph.D in composition from Harvard, having studied with Leon Kirchner, Earl Kim and Arthur Berger and winning one of the two annual prizes in composition.
Postdoctoral work included the study of Gregorian Chant with Dr. Mary Berry and several world tours as composer-in-residence and singer with the internationally acclaimed Gloriae Dei Cantores choir. His hymn tune, "Rock Harbor" won the 1986 A.G.O./ Hymn Society prize for best tune with a new text and was introduced at the Detroit A.G.O. convention conducted by Sir David Willcocks with Gerre Hancock at the organ. Many of his sacred choral works are published by Paraclete Press of Brewster, Mass. A collection of organ works,
"Sing the Year Round" was published by Augsburg Fortress in 2017 and another collection,"There is a Green Hill" was published in 2020 by Lorenz.
Since 2003, he and his wife have lived in Connecticut where he has continued to teach, compose and perform. Recently he has served on the board of the Greater Hartford Chapter of the A.G.O.
Works: